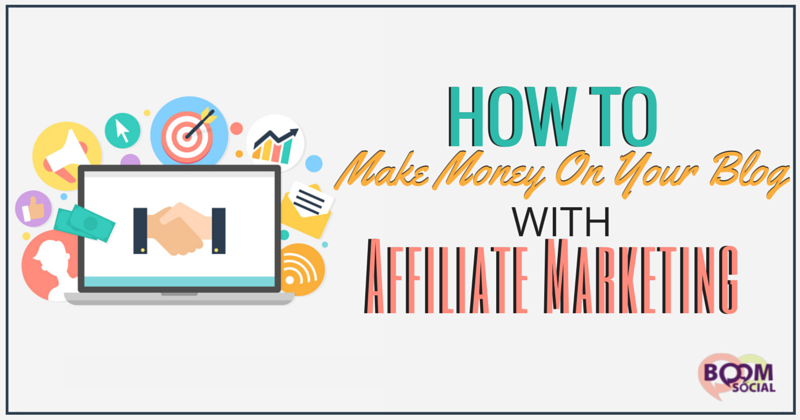 Do you dream of making money with your blog? You invest so much time, energy and passion into writing amazing blog posts; so wouldn't it be great to actually earn an income from what you are already doing for free?
Affiliate marketing is one of the primary methods website and blog owners use to generate revenue. In case you are not familiar with it, here's a brief rundown: When you sign up with an affiliate program (perhaps the most well-known program is

Amazon's

), you receive special links you can cut and paste onto your blog. Every time someone clicks on one of these links and then purchases a product, you receive a commission. It is that simple!
If this sounds intriguing to you, you will definitely want to keep reading. This post will walk you through exactly how to make money on your blog with affiliate marketing.
Step 1: Find an affiliate program
Your first step will be to sign up with an affiliate program. The vast majority of affiliate programs require a simple application process to ensure they are only partnering with high-quality sites. Most won't care if you have low levels of traffic, so long as you regularly add great content to your site.
Some of the most popular affiliate marketing programs include:
Amazon Associates

: While Amazon offers some of the lowest commission rates, it is also the simplest program to use. Signing up is easy, and because they offer so many products, you are sure to find ones that appeal to your audience. Also, the more products you sell, the higher your commission rate!
CJ Affiliate

: This is the program formerly known as Commission Junction. One of the most established programs out there.
ShareASale

: A huge selection of merchants to choose from, in every niche you can imagine.
Clickbank

: Specializes in digital products. Digital products are great as they tend to give the publisher (you) much higher commissions than for tangible goods.
e-junkie

: Another outfit specializing in digital products like eBooks. These can offer up to a 100% commission!
Rakuten Affiliate Network

: This is the network formerly known as LinkShare. An established network, but not quite as big as some of the others.
Keep in mind you may need to sign up for a free account before you can see a full list of stores or businesses that participate in each program.
Not every company that has an affiliate program will work through a large network like the ones above. While it may be slightly more difficult to find these smaller programs, they may offer niche products that are more suitable for your audience (and tend to offer higher commissions!).
To find affiliate programs in your niche, try the following Google searches:
1. "Your niche" + affiliate program (for example, "pet product affiliate program")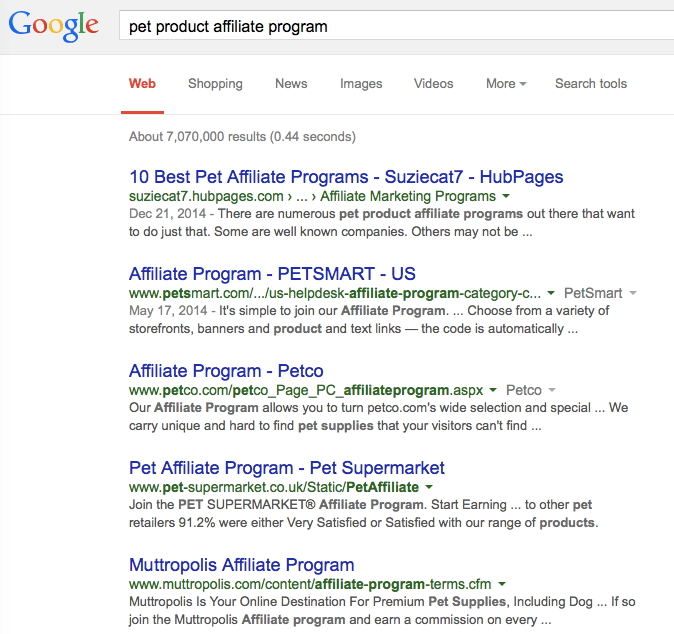 2. "Niche product" + "affiliate program" (for example, "dog bed affiliate program")
3. Keyword + affiliate (for example, "dog affiliate").
4. Keyword + "affiliate program"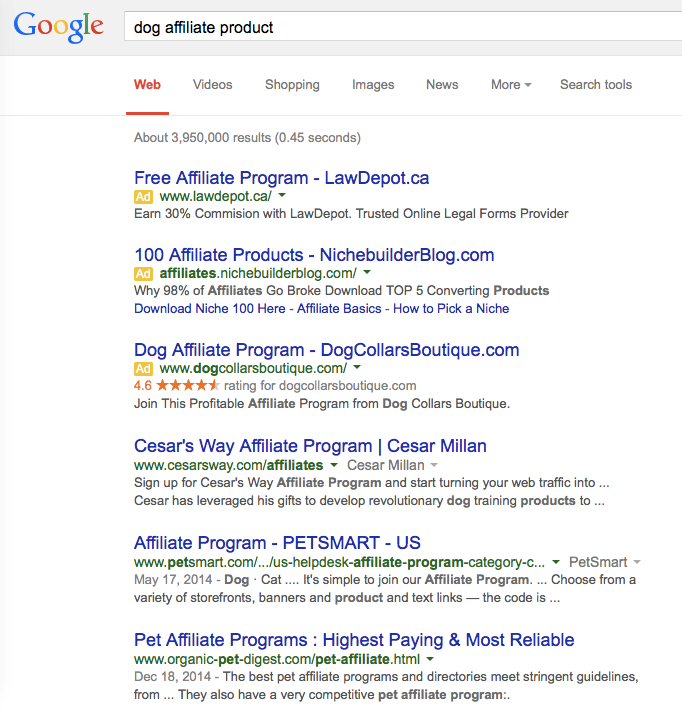 5. Keyword + affiliate product
6. "Product name" + affiliate: If you already have a product in mind, try combining it with "affiliate" or "affiliate program" to see if anything pops up.
Step 2: Add affiliate links and banners to your site
This can be as simple as replacing current links with affiliate links, or adding new links within your posts. Take a look around your site, and any time you reference a particular product, add an affiliate link. Now every time someone clicks on that link and buys the product, you make a commission!
For instance, if I had a blog post listing the Top 10 swaddling blankets for babies, I could simply cut and paste an affiliate link for each of the blankets I mention. If you are using the Amazon Associates program, you would simply do a search for the product, and then click on "Link to this page" at the top of your screen (assuming you are logged into your affiliate account).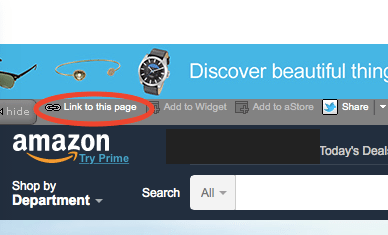 All affiliate programs will have a place on their site where you can grab your affiliate links. Most will also have an affiliate manager you can contact if you run into trouble finding or using the links.
Another great place to add affiliate links is at the end of your high traffic pages. Take a look through your analytics to see which pages get the most traction, and add a strong call to action on those pages. For instance, if I have a post about how to find a WordPress theme, I might end it with something like this: "If you're looking for an SEO-friendly theme,

here is one I recommend

."
Finally, most affiliate programs will also offer banner ads you can cut and paste onto your site. While banner ads are not nearly as effective as they used to be, it is worth testing them out on your own site.
Step 3: Create a resource page or review post to promote your affiliate products
Two of the best ways to attract interest in your affiliate products are to add a resource page or product review on your blog. While adding links within your existing content can also work, visitors to a resource page or review post will already be looking for helpful products they can buy.
For instance, if I have a site geared toward business owners, I could create a post called "The 8 Best Social Media Tools For Business Owners". Within that post, I could include one or more affiliate links, and earn a commission for recommending tools I would have suggested anyway. Win/win!
Step 4: Create an affiliate policy and be transparent
This step is SO important, but is one that often gets neglected. It is not as exciting as the ones above, but not doing it can get you into BIG TROUBLE! Here is how: The Federal Trade Commission (FTC) requires all affiliate marketers to clearly disclose all affiliate links. This means that if you have affiliate links on your site, you MUST be transparent about it! FTC guidelines aside, this is just a smart business practice. The last thing you want is to deceive your readers!
Worried that disclosing your affiliate links will hurt sales? Take a look at

Pat Flynn's

disclosure statement, along with his monthly earnings (largely from affiliate sales):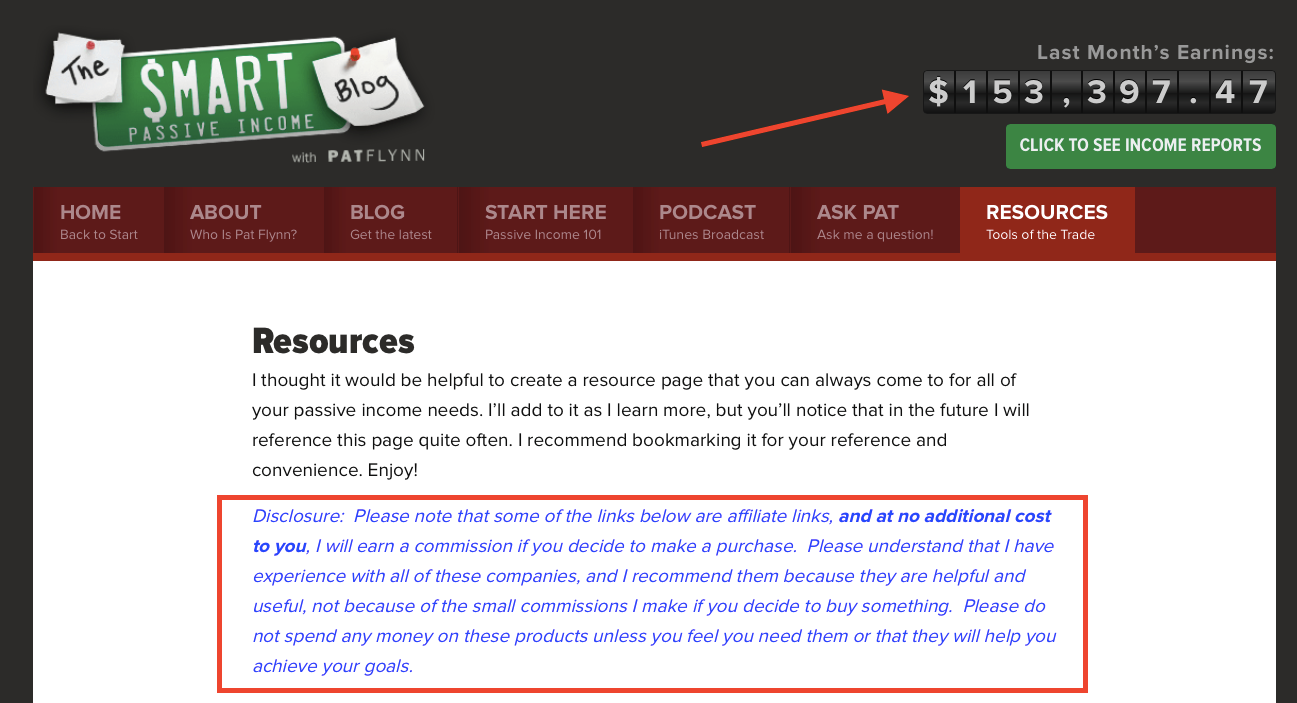 I recommend having an official affiliate policy on your site, as well as identifyingeach and every affiliate link you use on your site. This may seem like overkill, but you don't want to risk losing the trust of your audience!
Your affiliate policy does not have to be anything elaborate. In fact, a quick Google search for "affiliate policy sample" should do the trick nicely!
And there you have it: 4 steps for how to make money on your blog with affiliate marketing.
I'd love to hear your thoughts: Do you use affiliate marketing on your site? Are you planning to try it out? Share below!